The Superior Health Foundation (SHF) in Marquette awarded more than $155,000 in health-centered grant funding at its Spring Grants Celebration on Tuesday evening at the Holiday Inn in Marquette. The event was proudly presented by 44 North.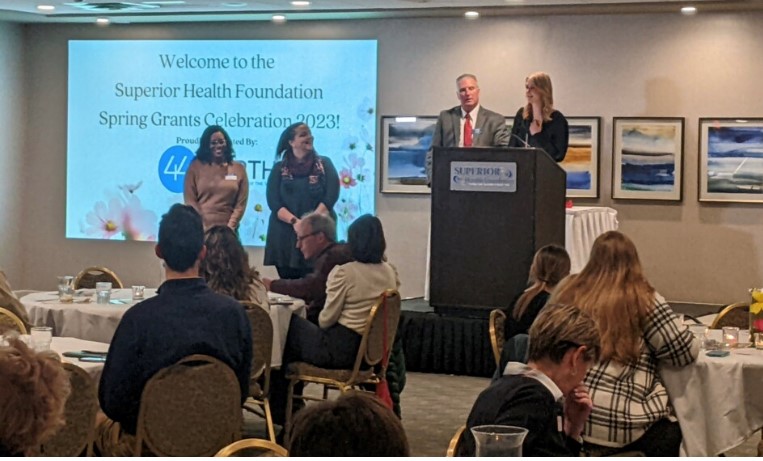 The Superior Health Foundation awarded $102,557.91 in spring grants, $35,000 in indigent care grants and $18,011.59 in pilot-project and equipment grants. 
In its 11-year history, the Upper Peninsula-wide, non-profit organization has awarded more than $5.5 million in grant dollars to health-centered, non-profits in the U.P.
"Our grant celebrations are truly special. We're honored and humbled to provide much-needed, health-centered grant funding to a growing list of organizations across the peninsula," said Jim LaJoie, executive director of the Superior Health Foundation. "We have developed a number of invaluable relationships over the years with many of these non-profit organizations. We know these grant dollars will be put to good use to improve the health of people who live in our region."
At the event, the Superior Health Foundation awarded $102,557.91 in spring grants to 12 non-profit organizations in the U.P.: 
D.J. Jacobetti Home for Veterans ($25,080): The D.J. Jacobetti Home for Veterans is receiving funding for the purchase and implementation of a R-Zero Arc UVC Light Device to aid in the disinfection of the facility for the health and protection of our U.P. Veterans. The device creates a continuous disinfection ecosystem that works by damaging the DNA and RNA of microorganisms such as bacteria, viruses, fungi and mold. The R-Zero Arc has been proven to inactivate 99.99 percent of microorganisms in seven minutes or less.
DAR Boys & Girls Club ($14,595.23): Today's youth are dealing with a mental health crisis and there isn't enough support. The DAR Boys & Girls Club of Menominee and Marinette will offer a safe, calming space where youth can go when they feel stressed or need some time and a safe space to deescalate. This area will be managed by a behavioral specialist who will be there for them to talk through their feelings, teach coping skills and convey ways to redirect their feelings. The purpose of this controlled room can encourage relaxation and calmness through a variety of specific items that can be helpful in helping our youth.
OSF St. Francis Hospital ($13,310): The OSF John and Melissa Besse Physical Rehabilitation and Wellness Center, a department of OSF St. Francis Hospital and Medical Group in Escanaba, is installing an ADA rehabilitation walking path. The rehabilitation walking path will service OSF rehab patients of all ages, including children and elderly. Patients throughout the U.P. come to OSF for rehabilitation services that include physical therapy, occupational therapy and speech therapy. The rehabilitation walking path will allow patients to receive services outside. Outdoor environments encourage movement and provide a large space to play, move and explore. Superior Health Foundation provided funding for an accessible cycler, a Peak climber, a Facet bench and a symbol communication board for the path.
Lions of Michigan Service Foundation ($10,000): The Lions of Michigan Service Foundation intends to increase the provision of affordable eye care and hearing healthcare services to underinsured and low-income families living in the Upper Peninsula to help more people experiencing vision and hearing loss to maintain their independence and enjoy an improved quality of life. The SHF provided funding for new digital hearing aids, audiology services, eyeglasses and eye exams.
Little Brothers Friends of the Elderly (LBFE) Upper Michigan Chapter ($10,000 over two years): Located in Hancock, LBFE began its core programming "Friendly Visiting" in the northwestern Upper Peninsula 40 years ago to address the detrimental effects of social isolation in the elderly population with friendship. It's through these relationships that the need for transportation to non-emergent appointments was first identified in rural Upper Peninsula communities where elders are reluctant to seek assistance. Through a two-year strategic plan, the Med Trans 2.0 program will address the growing non-emergent medical transportation needs of vulnerable elders by expanding its capacity and maintaining its integrity of "door through door" service.
Let's Grow KI ($9,504.40): KI Sawyer is a food dessert with low access to affordable nutritious fresh foods. These food dessert residents can live anywhere from a mile or more away from a supermarket, meaning their access to nutritious foods is limited. The result is heavy consumption of junk foods from gas stations or corner stores, fast food, or dining frequently at restaurants. This grant will help fund the construction of a Community Garden in the spring of 2023 and a series of five workshops that promote the health, education and welfare of the community by addressing how to garden and prepare nutritious vegetables. In addition, the grant will enable it to pilot coop a bed share program in KI Sawyer.
Outdoor Adventure Therapy School (OATS) ($7,500): OATS was organized to integrate the outdoor environment and adventure recreation with mental health intervention for a collaborative health educational experience. The grant will provide seed funding to start providing outdoor mental health services to individuals and groups of people who need counseling and guidance through current stressful circumstances. The project will provide a starting point to advertise and fundraise for further funding opportunities to increase the availability of mental health services for U.P. residents.
Women's Center, Inc. ($6,258.36):  The Women's Center in Marquette was established in 1973 and is one of the oldest domestic violence agencies in the State of Michigan. The Harbor House is a program of the Women's Center. The Harbor House provides safe shelter for survivors of domestic and/or sexual violence. Currently, the Women's Center provides a pantry that residents of the Harbor House have access to 24 hours a day, seven days a week. This pantry is often stocked with non-perishable items such as Hamburger Helper, Mac-and-Cheese, canned soup, canned fruits and vegetables, and pasta/pasta sauce. The SHF provided grant funding to purchase nutritional perishable food items —  such as fresh fruits and vegetables, beef and poultry, eggs, bread, milk, etc.  — to provide healthy and nutritious meals to survivors and their families residing at the Harbor House.
The Caregiver Incentive Project ($5,464.92): The Caregiver Incentive Project was founded by Eric Paad, a family caregiver seeking a way to help improve the quality of care available to vulnerable adults like his daughter, and to help end the caregiver shortage. The Caregiver Incentive Project (CIP) has worked throughout the Central Upper Peninsula to train new in-home caregivers through its Caregiver Academy. It has also connected caregivers with clients through its Care Close to Home program. Grant funding will offer a Quality Care at Home Workshop Series that considers the needs of both the caregiver and cared for in its design. The three-hour workshops will provide training on topics such as de-escalation tactics, physically transferring someone safely, expectations of caregivers, nutrition for seniors or other topics students wish to cover.
The American Diabetes Association ($2,500): Each year, nearly 20,000 youth are diagnosed with type 1 diabetes, a chronic condition in which the pancreas produces little or no insulin. Children with type 1 diabetes walk a fine line to keep their blood sugar levels not too low and not too high. Since 1955, ADA Camp Midicha has changed the lives of more than 10,000 children with diabetes by connecting them to adventure, education, mentorship and each other. Grant funding will be used to provide scholarships for campers from Upper Michigan to attend Camp Midicha.
City of Escanaba ($2,500): The After School Program at the Catherine Bonifas Civic Center is for youth in 4th-12th grades. Healthy snacks/food to take home, hygiene items and school supplies are provided. The facility is a safe, supervised environment where youth have access to the gym, full game room, laptops, books, board games, wi-fi and help with schoolwork. Grant funding will be used to provide school supplies for the After School Program.
City of Marquette ($845): The mission of the City of Marquette Senior Center is to assist members of the community's older adult population to live in an environment of their choosing with dignity and independence. The Silver Sampler program's mission is to provide active outdoor recreation opportunities and education to those 55 years of age and older. The overall goals are to reduce barriers to recreation and increase confidence and capacity for participants to explore the pathways and venues in and around Marquette County in a safe and supportive group. Grant funding will be used for Clear Lake Camp rental fees for the program and an Asahi wellness course.
At the celebration, SHF announced the four award recipients for its Indigent Care grants:
Functional Behavior Services ($10,000): Functional Behavior Services was awarded funds to provide access to Behavior Reduction and Skill Acquisition services for individuals other than those who present with an Autism Diagnosis.
Great Lakes Recovery Centers, Inc ($10,000): GLRC was granted funds for its Compassionate Care Fund. This fund aims to help individuals who are uninsured, under-insured, not eligible for community or governmental funding and do not have the means to pay for it on their own.
Trillium House ($10,000): Trillium House was awarded funds for the Trillium House Resident Care Fund. This fund garners support from all aspects of the central U.P. community to fund the difference between what residents can pay and the costs involved in having the home available.
LifeLine Pilots ($5,000): LifeLine Pilots received funding to provide free air transportation for passengers from the Upper Peninsula with medical or humanitarian needs.
The Superior Health Foundation also awarded pilot project and equipment grants to the following organizations: 
Carney-Nadeau Public School, Days for Girls International Marquette MI Team, HSC Foundation, Immanuel Lutheran Church, Lake Superior Life Care & Hospice, Marquette Alger RESA, Marquette County Health Department, Michigan Breastfeeding Network, Our Redeemer Lutheran Church and U.P. Superior Smiles.
The Superior Health Foundation's mission is to "assist with unmet healthcare needs, with health education, and with programs and research on preventing illness and promoting health throughout the Upper Peninsula."
SHF accepts grant proposals monthly for pilot project and equipment grants.   Applications for the fall grants cycle will be accepted from June 1-July 3.