September 12, 2020
Virtual Event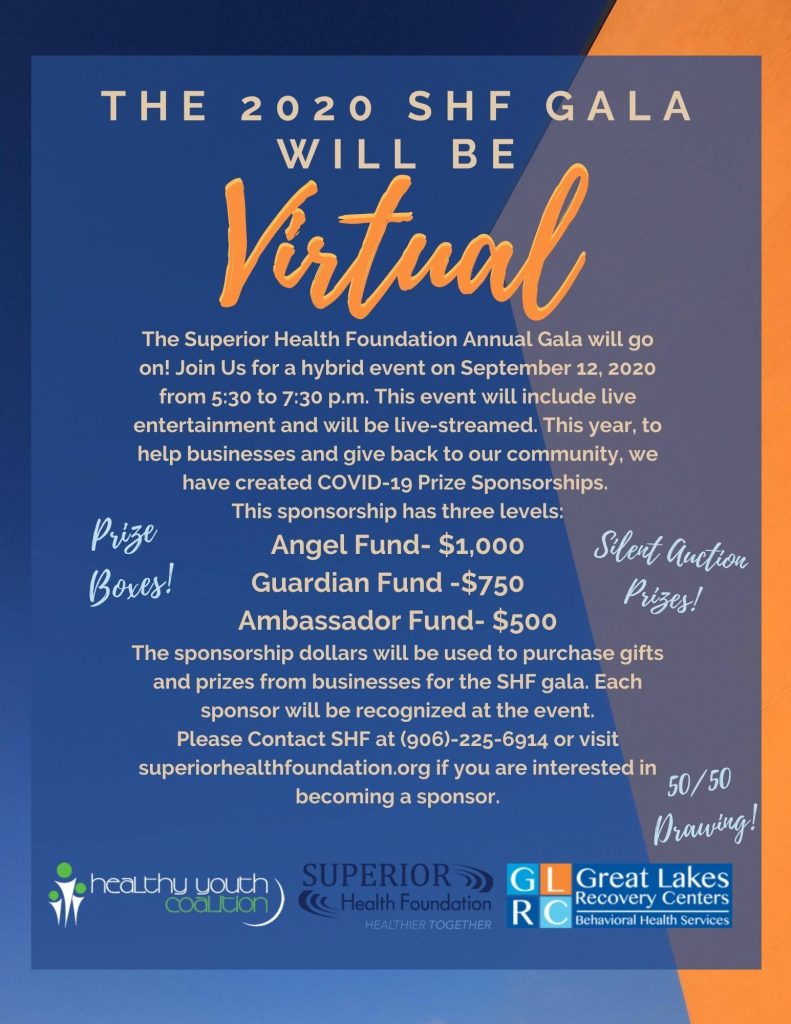 SHF selects 2020 Gala Partners
With a focus on behavioral health, the Superior Health Foundation's Gala Committee has selected Great Lakes Recovery Centers (GLRC) and the Healthy Youth Coalition of Marinette & Menominee Counties as its gala partners for 2020!
For Great Lakes Recovery, SHF will provide $5,000 apiece in funding for the Parent Support Network AND the Critical Incident Stress Management Team.

The Parent Support Network is a free, confidential, peer-led meeting for adult caregivers (parents, guardians, foster parents and grandparents) who are concerned about their child's mental health.
The Critical Incident Stress Management team is a response initiative designed to help first-responders cope with the secondary trauma of major accidents and incidents.
Both of the above programs are offshoots of the John Kivela Legacy Fund (JKLF), established in May 2018 in loving memory of former state representative John Kivela. The JKLF was founded as a way to pay tribute to John and his passion for Michigan's Upper Peninsula, as well as help reduce the stigma surrounding mental health and substance abuse issues. All of the funds within the JKLF are used to enhance mental health and substance abuse services through (GLRC) with the input of the Kivela family.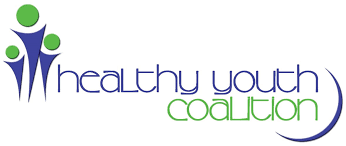 Meanwhile, the Healthy Youth Coalition Project is geared toward behavioral health programming for teenagers 14 and older in these two counties, with a focus on a Haunted House in October. Children get a dose of reality as a guide takes them on a tour of what could be potentially their worst nightmare of their poor choices. Event participants are led through various rooms of project volunteers portraying consequences of engaging in risky behaviors. Issues targeted include: illicit drug use, suicide, vaping use, distracted driving, drinking and driving, bullying behaviors, underage drinking, family violence and more.
The SHF Gala Committee is now actively seeking sponsors for the gala, scheduled for Saturday, Sept. 12, online as a virtual event. Details on the live stream will be announced in the coming weeks.
"We're absolutely elated to work with these incredible organizations," said Jim LaJoie, executive director of the Superior Health Foundation. "Both are very worthwhile, meaningful behavioral health projects. Our committee looks forward to partnering with GLRC and the Healthy Youth Coalition of Marinette & Menominee Counties on planning for the gala."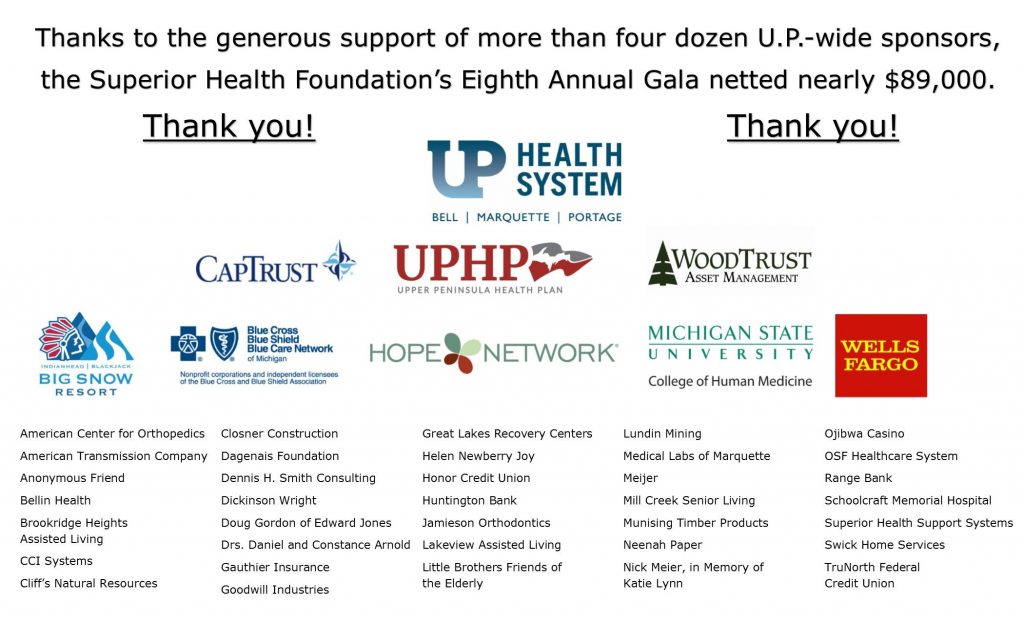 ---