Our Mission is to assist with unmet healthcare needs, with health education, and with programs and research on preventing illness and promoting health in the Upper Peninsula.
Welcome to Superior
Health Foundation.
Improving the health of residents
of the Upper Peninsula.
The Superior Health Foundation is a health-centered, grant-giving organization serving the Upper Peninsula of Michigan.  We provide funding to address equipment, health education and program needs to support non-profit organizations across the Upper Peninsula for the health benefit of all Upper Peninsula residents. To learn more, please visit the Frequently Asked Questions.
Bay Cliff Health Camp Feature Video Shown at the 12th Annual Gala
Save the Date – September 30, 2023
Friday, June 16, 2023
Red Fox Run


Saturday, September 30, 2023
Northern Center, NMU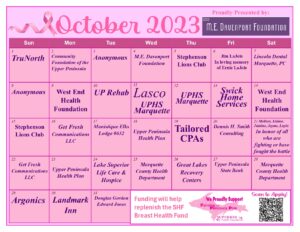 Stay up to date with Superior Health Foundation's latest news and happenings. Click the Read More button to view the full article. For older stories, check out our News page.
The Superior Health Foundation added a new director to its Upper Peninsula board at its November meeting. Scott Sampeer is a certified financial planner for Northwestern Mutual in Marquette. Sampeer, CFP®, CLU®, ChFC®, has worked for Northwestern Mutual for 16 years, including the last six out of the Marquette office. Read more…
Read More »
The Superior Health Foundation Fall 2023 Newsletter is now available!
Read More »
The Superior Health Foundation seeks an outgoing and well-organized Event Specialist to join their team in Marquette, Michigan. The Specialist role is more than just a job; it's an invitation to join forces with the Executive Director in crafting unforgettable experiences that leave a lasting impact. In this role, you will develop, coordinate, Read more…
Read More »
Have a question for Superior Health Foundation?
Type it here and hit submit: