Our Mission is to assist with unmet healthcare needs, with health education, and with programs and research on preventing illness and promoting health in the Upper Peninsula.
Save the Date – October 1, 2022
Featured Project: Learn About Connect UP – Rides to Wellness
SHF proactive grant helps provide non-emergent
medical transportation to patients in the U.P.
Welcome to Superior
Health Foundation.
Improving the health of residents
of the Upper Peninsula.
The Superior Health Foundation is a health-centered, grant-giving organization serving the Upper Peninsula of Michigan.  We provide funding to address equipment, health education and program needs to support non-profit organizations across the Upper Peninsula for the health benefit of all Upper Peninsula residents. To learn more, please visit the Frequently Asked Questions.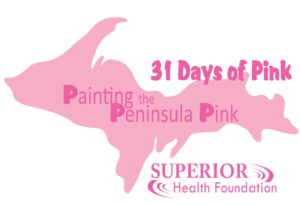 Thursday, Oct. 20
Varsity girls' volleyball
Crystal Falls-Forest Park at North Dickinson
Stay up to date with Superior Health Foundation's latest news and happenings. Click the Read More button to view the full article. For older stories, check out our News page.
The silent auction for the 11th Annual Superior Health Foundation Annual Gala is now live!  Included are 20 incredible silent auction prizes. There's something for everyone! The auction, open to the general public, will continue until 9:30 p.m. Saturday, October 1. There is also an opportunity to give a charitable…
With the beginning of Painting the Peninsula Pink (Oct. 1) right around the corner, the Yooper Shirts store is now open to order pink shirts to support the North Dickinson Nordics! The shirts are available in unixex, women's and youth sizes. Each shirt is $12. SHF is partnering with the…
The Superior Health Foundation (SHF) is now accepting applications for Year 2 of its Proactive Grant Focus process for projects positioned to make an impact on improving food insecurities throughout the entire Upper Peninsula. "The Superior Health Foundation awarded nearly $510,000 in funding in Year 1 to four organizations across…
Have a question for Superior Health Foundation?
Type it here and hit submit: