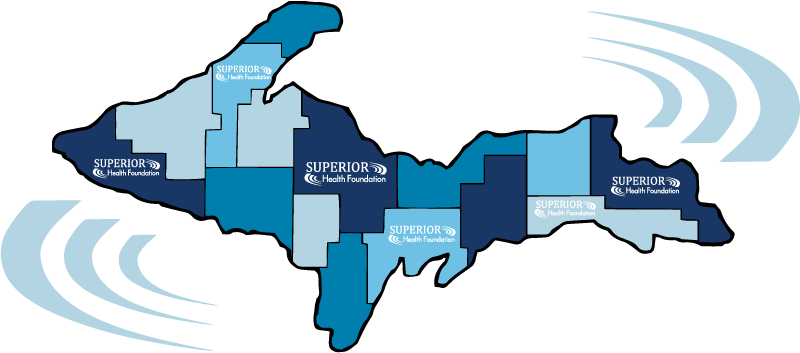 Our grants are helping Michigan residents and our neighbors across the Upper Peninsula. See list of grants benefiting each county below.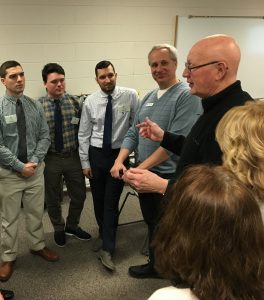 Grants at Work! – Featured Story
In Spring 2018, the Superior Health Foundation awarded Trillium House in Marquette a $10,000 large grant for its Trillium House Care Fund. The Trillium House Care Fund covers the cost of providing care and decreased revenues from patients who cannot afford to pay, or receive a discount for their care.
Since Trillium House opened its doors, it has cared for 43 residents and their loved ones. Resident and family satisfaction surveys have all been at 100 percent This grant alleviated a great deal of anxiety and pain that otherwise would have impacted the families at Trillium House.
SHF is very pleased to support Trillium House!
Alger County Grants
| Recipient | Number of Grants | Counties Benfitted |
| --- | --- | --- |
| 906 Adventure Team | 1 | Alger, Delta, Dickinson, Marquette |
| Catholic Social Services of the Upper Peninsula | 1 | Alger, Delta, Dickinson, Marquette, Menominee, Schoolcraft |
| Helen Newberry Joy Hospital | 1 | Alger, Chippewa, Luce, Luce, Mackinac, Schoolcraft |
| Lake Superior Life Care & Hospice | 1 | Alger, Marquette |
| Marquette Alger RESA | 2 | Alger, Marquette |
| Marquette County Health Department | 1 | Alger, Delta, Luce, Mackinac, Schoolcraft |
| Munising Memorial Hospital | 1 | Alger |
| Pathways | 1 | Alger, Delta, Luce, Marquette |
| Sports Training Camp | 2 | Alger, Marquette |
| UP Children's Therapy | 2 | Alger, Schoolcraft |
| YMCA – Summer Speech | 1 | Alger, Delta, Disckinson, Marquette, Schoolcraft |
Chippewa County Grants
| Recipient | Number of Grants | Counties Benfitted |
| --- | --- | --- |
| BEST of Chippewa County | 1 | Chippewa |
| Feeding America West Michigan | 1 | Chippewa, Luce, Mackinac, Marquette, Schoolcraft |
| Great Lakes Recovery Centers – Recovery House | 1 | Chippewa, Baraga, Luce, Mackinac, Marquette |
| Helen Newberry Joy Hospital | 1 | Chippewa, Alger, Luce |
| Hospice of the EUP | 1 | Chippewa |
| Lake Superior State Foundation | 1 | Chippewa |
| Michigan Fitness Foundation | 1 | Chippewa |
| Michigan State University | 1 | Chippewa, Houghton, Marquette |
| Superior Simulation Center | 1 | Chippewa |
Delta County Grants
| Recipient | Number of Grants | Counties Benfitted |
| --- | --- | --- |
| 906 Adventure Team | 1 | Alger, Delta, DIckinson, Marquette |
| Catholic Social Services of the Upper Peninsula | 1 | Alger, Delta, Dickinson, Marquette, Menominee, Schoolcraft |
| Dickinson Area Community Foundation | 1 | Delta, Dickinson, Houghton, Iron, Marquette, Menominee, Schoolcraft |
| Holy Name Catholic School | 1 | Delta |
| Marquette County Health Department | 1 | Alger, Delta, Luce, Mackinac, Marquette, Menominee, Schoolcraft |
| Northern Lights YMCA | 2 | Menominee, Delta, Dickinson, Marquette |
| Pathways | 1 | Alger, Delta, Luce, Marquette |
| RSVP | 1 | Delta, Menominee, Schoolcraft |
| Schoolcraft Memorial Hospital | 1 | Delta, Schoolcraft |
| YMCA – Summer Speech | 1 | Alger, Delta, Dickinson, Marquette, Schoolcraft |
Dickinson County Grants
| Recipient | Number of Grants | Counties Benfitted |
| --- | --- | --- |
| 906 Adventure Team | 1 | Alger, Delta, Dickinson, Marquette |
| Catholic Social Services of the Upper Peninsula | 1 | Alger, Delta, Dickinson, Marquette, Menominee, Schoolcraft |
| Dickinson Area Community Foundation | 1 | Delta, Dickinson, Houghton, Iron, Marquette, Menominee, Schoolcraft |
| Northern Lights YMCA | 2 | Menominee, Delta, Dickinson, Marquette |
| STAR Volunteers | 1 | Dickinson |
| YMCA – Summer Speech | 1 | Alger, Delta, Dickinson, Marquette, Schoolcraft |
Houghton County Grants
| Recipient | Number of Grants | Counties Benfitted |
| --- | --- | --- |
| Dickinson Area Community Foundation | 1 | Delta, Dickinson, Houghton, Iron, Marquette, Menominee, Schoolcraft |
| Michigan State University | 1 | Chippewa, Houghton, Marquette |
| Omega House | 2 | Houghton |
| Upper Great Lakes Family Health Center | 1 | Houghton, Iron, Marquette, Menominee, Schoolcraft |
Iron County Grants
| Recipient | Number of Grants | Counties Benfitted |
| --- | --- | --- |
| Aspirus Ironwood Hospital & Clinics | 1 | Gogebic, Iron, Ontonagon |
| Dickinson Area Community Foundation | 1 | Delta, Dickinson. Houghton, Iron, Marquette, Menominee, Schoolcraft |
| Upper Great Lakes Family Health Center | 1 | Houghton, Iron, Marquette, Menominee, Ontonagon |
Luce County Grants
| Recipient | Number of Grants | Counties Benfitted |
| --- | --- | --- |
| Feeding America West Michigan | 1 | Chippewa, Luce, Mackinac, Marquette, Schoolcraft |
| Great Lakes Recovery Centers – Recovery House | 1 | Baraga, Chippewa, Luce, Mackinac, Marquette |
| Helen Newberry Joy Hospital | 1 | Alger, Chippewa, Luce, Mackinac, Schoolcraft |
| Marquette County Health Department | 1 | Alger, Delta, Luce, Mackinac, Marquette, Menominee, Schoolcraft |
| Pathways | 1 | Alger, Delta, Luce, Marquette |
| Regents of the University of Michigan | 1 | Luce, Marquette |
Mackinac County Grants
| Recipient | Number of Grants | Counties Benfitted |
| --- | --- | --- |
| Feeding America West Michigan | 1 | Chippewa, Luce, Mackinac, Marquette, Schoolcraft |
| Great Lakes Recovery Centers – Recovery House | 1 | Baraga, Chippewa, Luce, Mackinac, Marquette |
| Helen Newberry Joy Hospital | 1 | Alger, Chippewa, Luce, Mackinac, Schoolcraft |
| Marquette County Health Department | 1 | Alger, Delta, Luce, Mackinac, Marquette, Menominee, Schoolcraft |
Marquette County Grants
| Recipient | Number of Grants | Counties Benfitted |
| --- | --- | --- |
| 906 Adventure Team | 1 | Alger, Delta, Dickinson, Marquette |
| Back Cliff Health Camp | 1 | Marquette |
| Big Brothers Big Sisters | 2 | Marquette |
| Cancer Care of Marquette County | 1 | Marquette |
| Care Clinic | 1 | Marquette |
| Catholic Social Services of the Upper Peninsula | 1 | Alger, Delta, Dickinson, Marquette, Menominee, Schoolcraft |
| Dickinson Area Community Foundation | 1 | Delta, Dickinson, Houghton, Iron, Marquette, Menominee, Schoolcraft |
| Feeding America West Michigan | 1 | Chippewa, Luce, Mackinac, Marquette, Schoolcraft |
| Great Lakes Recovery Centers – Equine Therapy | 1 | Marquette |
| Great Lakes Recovery Centers – Recovery House | 1 | Baraga, Chippewa, Luce, Mackinac, Marquette |
| Just Believe | 2 | Marquette |
| Lake Superior Life Care & Hospice | 1 | Alger, Marquette |
| Lake Superior Life Care & Hospice | 4 | Marquette |
| Little Brothers Friends of the Elderly | 1 | Baraga, Ontonagon, Marquette |
| Marquette Alger RESA | 2 | Alger, Marquette |
| Marquette Alternative High School | 2 | Marquette |
| Marquette County Cares | 1 | Baraga, Gogebic, Marquette |
| Marquette County Health Department | 1 | Alger, Delta, Luce, Mackinac, Marquette, Menominee, Schoolcraft |
| Marquette County Health Department | 1 | Marquette |
| Michigamme Township Fitness Committee | 1 | Marquette |
| Michigan State University | 1 | Chippewa, Houghton, Marquette |
| Michigan State University – Dept. of Pediatrics and Human Development | 1 | Marquette |
| Northern Lights YMCA | 2 | Delta, Dickinson, Marquette, Menominee |
| Northern Michigan University – Multiple Sclerosis | 1 | Marquette |
| Northern Michigan University – Reducing Stress | 1 | Marquette |
| Pathways | 1 | Alger, Delta, Luce, Marquette |
| Regents of the University of Michigan | 1 | Luce, Marquette |
| Sports Training Camp | 2 | Alger, Marquette |
| Teaching Family Homes | 1 | Marquette |
| Trillium House | 3 | Marquette |
| UP AHEC | 1 | Marquette |
| Upper Great Lakes Family Health Center | 1 | Houghton, Iron, Marquette, Menominee, Ontonagon |
| West End Health Foundation | 1 | Marquette |
| Women's Center | 2 | Marquette |
| YMCA + SRPS | 1 | Marquette |
| YMCA of Marquette County | 2 | Marquette |
| YMCA – Summer Speech | 1 | Alger, Delta, Dickinson, Marquette, Schoolcraft |
Menominee County Grants
| Recipient | Number of Grants | Counties Benfitted |
| --- | --- | --- |
| Catholic Social Services of the Upper Peninsula | 1 | Alger, Delta, Dickinson, Marquette, Menominee, Schoolcraft |
| Dickinson Area Community Foundation | 1 | Delta, Dickinson, Houghton, Iron, Marquette, Menominee, Schoolcraft |
| Healthy Youth Coalition of Marinette and Menominee Counties | 2 | Menominee |
| Marquette County Health Department | 1 | Alger, Delta, Luce, Mackinac, Marquette, Menominee, Schoolcraft |
| Northern Lights YMCA | 2 | Delta, Dickincon, Marquette, Menominee |
| RSVP | 1 | Delta, Menominee, Schoolcraft |
| Upper Great Lakes Family Health Center | 1 | Houghton, Iron, Marquette, Menominee, Ontonagon |
Schoolcraft County Grants
| Recipient | Number of Grants | Counties Benfitted |
| --- | --- | --- |
| Catholic Social Services of the Upper Peninsula | 1 | Alger, Delta, Dickinson, Marquette, Menominee, Schoolcraft |
| Dickinson Area Community Foundation | 1 | Delta, Dickinson, Houghton, Iron, Marquette, Menominee, Schoolcraft |
| Feeding America West Michigan | 1 | Chippewa, Luce, Mackinac, Marquette, Schoolcraft |
| Helen Newberry Joy Hospital | 1 | Alger, Chippewa, Luce, Mackinac, Schoolcraft |
| Marquette County Health Department | 1 | Alger, Delta, Luce, Mackinac, Schoolcraft |
| RSVP | 1 | Delta, Menominee, Schoolcraft |
| Schoolcraft Memorial Hospital | 1 | Delta, Schoolcraft |
| UP Children's Therapy | 2 | Alger, Schoolcraft |
| YMCA – Summer Speech | 1 | Alger, Delta, Dickinson, Marquette, Schoolcraft |
Upper Peninsula Wide Grants