It's that time of the year again! We're beginning to prepare for the 12th Annual Superior Health Foundation Gala on Saturday, Sept. 30, in the Northern Center. Were excited to raise money to support our peninsula-wide grant giving while also supporting a non-profit partner. The event is again proudly presented by Marshfield Medical Center – Dickinson. Thank you!
For 2023, SHF will partner with Bay Cliff Health Camp and award at least $15,000 in funding to this incredible organization. Bay Cliff is undertaking an exciting Beach Day Program to allow its campers to participate in water recreation activities. It's very exciting and we're thrilled to partner with Bay Cliff!

Our annual gala is successful because of people and organizations like you who charitably invest in their communities. We hope you can join us to support these causes in whatever way you feel safe and able. The annual gala is a wonderful opportunity to visit with friends and colleagues, relish a delicious meal and drink and enjoy our entertainment (this year, back by popular demand, is dueling pianos)! Fun!!!
We're hopeful that you'll will being a sponsor for our gala this year. We have a number of exciting sponsorship opportunities available for your organization. Know this: We truly value your incredible support.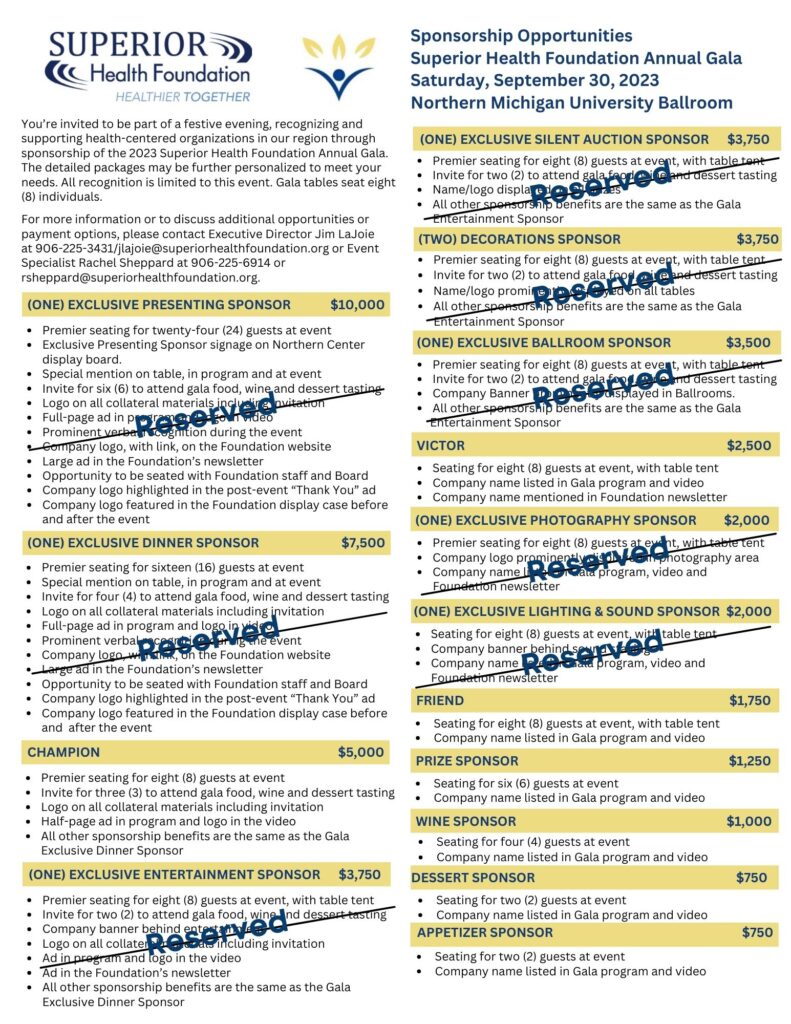 We wish you all the best for 2023 and look forward to working together to support health-centered organizations. Enclosed is an overview of sponsorship levels, which we have made several exciting additions for 2023! If you have questions or require additional information, please feel free to contact me (Jim) at 906-225-3431 or jlajoie@superiorhealthfoundation.org or Rachel Sheppard, Events Specialist, at 906-225-6914 or rsheppard@superiorhealthfoundation.org.
We look forward to gathering on September 30 among good friends, colleagues and family.