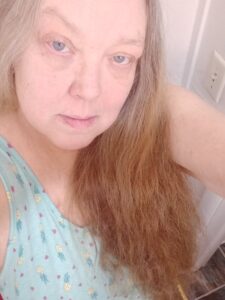 Peggy, an Army veteran, has traveled and lived all over the world. 
 Yet, with a love for the beauty of the terrain, her heart kept calling her back to the Upper Peninsula and her hometown of Sault Ste. Marie.
A graduate of Lake Superior State University with a bachelor's degree in biology, Peggy learned to paint in high school and has enjoyed painting since her return to the U.P. in July 2021. 
"I'm blessed with the ability to see something and make it," she said.   
Her love for the U.P. is perhaps only surpassed by her appreciation for the kindness and generosity of the people who live here.  
 Just months after returning to Sault Ste. Marie, Peggy – who already had been living with a blood disorder – was diagnosed with breast cancer. 
"It's so important to have regular health screenings," she said. "The value of your life is more important than losing your hair or breast." 
Peggy recently completed her 10th chemo treatment and gets "chemo tired." Yet, she continues to maintain a positive mental outlook.
Peggy applied for and received funding from the Superior Health Foundation's U.P.-wide Breast Health Fund. 
"You have no idea what this means to me … having help with a bit of the expenses has given me a bit of dignity," she said.  "A little dignity goes a long, long way. Taking care of some of my breast health expenses wouldn't have been possible without the help of the Foundation. 
 "I used to sit on my hair … now I don't have anything.  Feeling some sense of dignity while you're going through the healing process is so important.  I've been so excited about this (telling) story because if this story gets at least one more person some help, then it's a big deal!  Knowing that there's someone else out there, you are not alone."
The SHF Breast Health Fund provides funding to help men and women across the U.P. with out-of-pocket breast health expenses otherwise not covered by insurance. 
If you or someone you know has out-of-pocket breast health expenses, please visit this link to apply for assistance: https://forms.donorsnap.com/form?id=9e6e53c2-d09e-44e2-a50c-e42ea5ea3f64
Interested in supporting with a charitable gift to help alleviate some of the financial stress on patients so they can focus on healing? Please visit https://superiorhealthfoundation.org/funds/breast-health-fund/