The Superior Health Foundation is incredibly excited to partner with the District 10 Lions on our 11th Annual Gala, proudly presented by the Marshfield Clinic. The event is scheduled for Saturday Oct. 1, at the Northern Center in Marquette.
The District 10 Lions Club mission is to serve children and families from the Upper Peninsula who are battling childhood cancer. Its program assembles initiatives to help these families meet financial needs for travel, medical and household bills.
At the gala, the District 10 Lions will receive at least $15,000 in funding to be used to help with travel and medical costs for families who need to travel for care; support Camp Quality Upper Peninsula, a camp for pediatric patients and their families at Bay Cliff Health Camp; and support Kids Kicking Cancer, a non-profit that empowers children to manage pain and stress through martial arts and meditation.
Lions Clubs International has adopted childhood cancer as an initiative on a global level. Michigan is ranked fifth in the nation for the annual number of pediatric cancer diagnoses. Some 470 children are diagnosed in Michigan each year.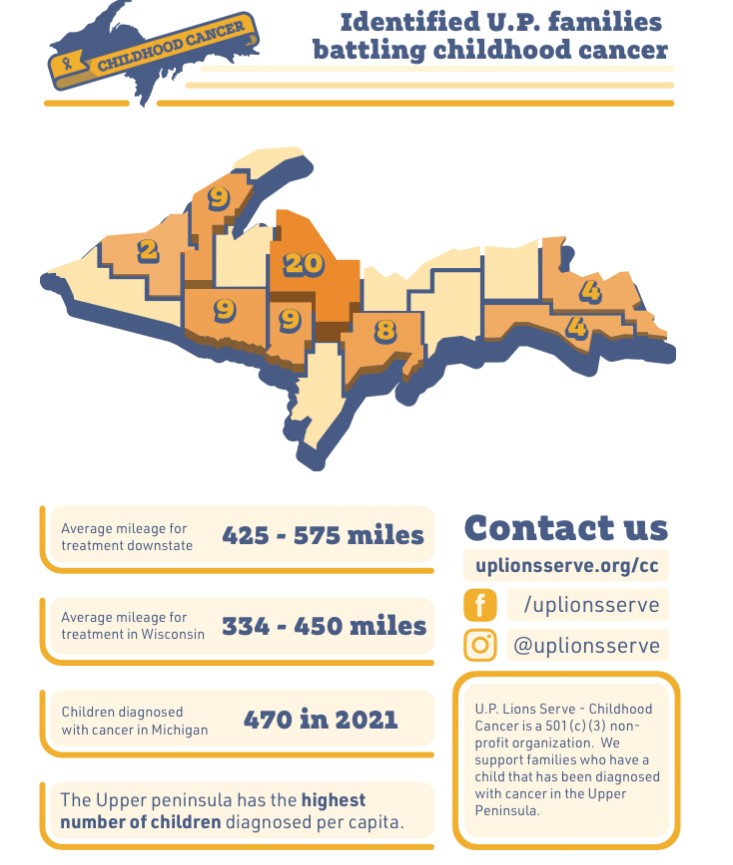 The District 10 Lions has connected with 65 families in the Upper Peninsula. The U.P. has the largest number of children per capita diagnosed with cancer in Michigan.
U.P. families face daunting challenges because they must travel out of our area for care. Many times, one parent is forced to take an extended leave of absence or leave a job to be with their child. Medical treatment can go on for many years, leaving kids with physical, emotional and sensory deficits.
This map tells the story. SHF is abundantly honored to be part of increasing funding to help these families.
We'd love for the U.P.-wide business community to be part of our signature event. To learn more and view exciting sponsorship opportunities, please visit https://superiorhealthfoundation.org/…/sponsorships…/