Sara Giles of Manistique is the newest member of the Superior Health Foundation's Board of Directors.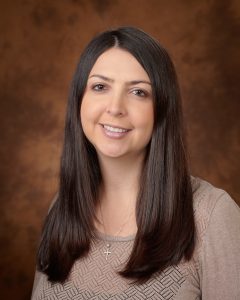 Currently the marketing director of Schoolcraft Memorial Hospital (SMH) and member of the Senior Leadership Team in Manistique, Giles is a native of Canada. She is an honors graduate in psychology and criminology at the University of Western Ontario. 
At SMH, Giles is responsible for all internal/external marketing material and designs/manages digital and print campaigns for advertising, social media, annual reports, fundraising efforts and press releases. She's passionate about event planning and coordinates the annual Schoolcraft County Health Fair and Festival of Trees celebrations.  In addition, she works closely with the fund development department to promote giving campaigns while overseeing the Greeter Volunteer Program at the hospital.   
Giles actively gives of her time in the community. She currently serves as vice-chair on the St. Francis de Sales Catholic Elementary School Board of Directors; sits on the Schoolcraft County Planning Body; serves on the Schoolcraft County Communities that Care group and serves on the mental health task force for Delta Schoolcraft Intermediate School District.
Giles lives in Manistique with her family.  She is a world traveler and enjoys living in the Upper Peninsula. In her spare time, she enjoys camping, exploring new beaches, fishing for salmon and spending time with her family.
"It has been an absolute joy working with members of the Superior Health Foundation over the last few years," Giles said. "I was able to see SHF grants at work in my own organization and I encourage others to apply when opportunities are made available.  I'm passionate about working with this board because I believe in its mission.  I have seen firsthand how lives can change when ideas become reality.  
"Supporting community projects and working with local leaders strengthens our communities," she added. "I look forward to planning meaningful events and sharing grant opportunities with residents across the Upper Peninsula."