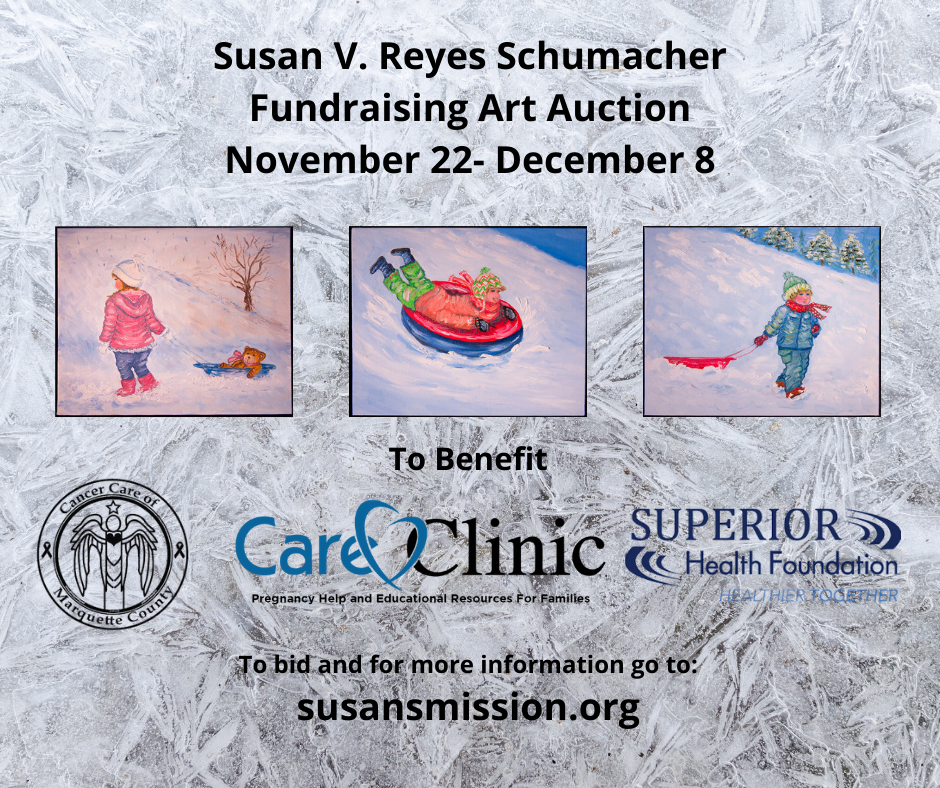 It was a beautiful and tragic love story.
Susan Vasquez Reyes was an experienced artist whose real love was oil-based paintings. She had a vision only somebody who grew up in the jungles of the Philippines would have. 
After she immigrated to the United States, Paul Schumacher, her soon to be husband, located her at a Christian dating site and they married May 1st, 2013 in Seattle. Susan then moved to be with Paul in Marquette. It was her dream first marriage. They thought they had the rest of their lives together, but after just two and a half years of marriage, Susan was diagnosed with stage 4 EGFR mutation, non-small-cell nonsmoker lung cancer. 
They had recently celebrated their fourth wedding anniversary when she passed away on June 8, 2017.
Susan left behind more than 90 paintings and picture frames all made with her creative, feminine Philippine touch. 
Now, her amazing work can be yours while supporting three non-profits in Marquette County.
Cancer Care of Marquette County, Care Clinic of Marquette and the Superior Health Foundation will be the recipients of money raised from the Susan V. Reyes Schumacher Memorial Fundraising online silent auction art sale from Nov. 22 through Dec. 15. 
Susan's entire catalog of beautiful paintings and picture frames can be viewed at www.susansmission.org. Many of the paintings and picture frames will be available to bid on during the celebratory event. 
 Those interesting in sponsoring the event are asked to contact Paul at paulmschumacher@hotmail.com or call 906-360-8889.