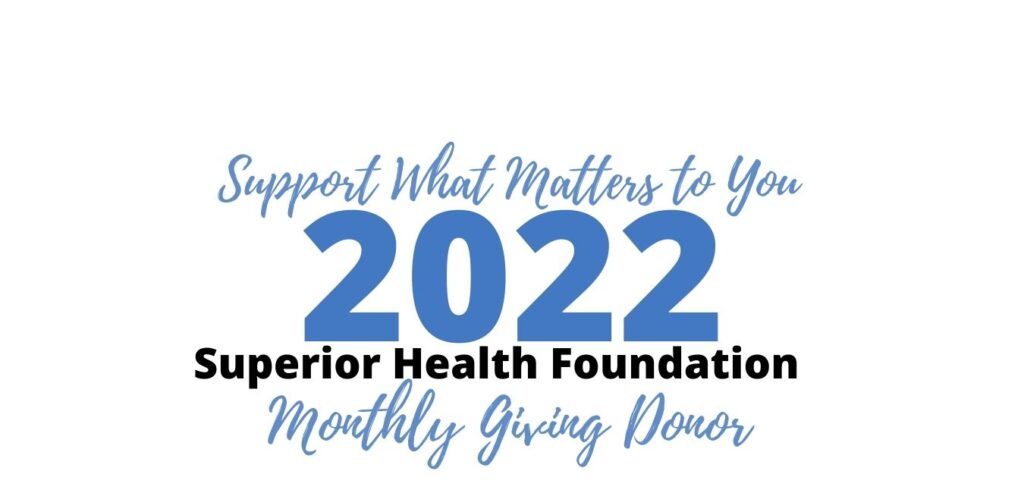 the Upper Peninsula
as healthy as it is beautiful!
and WATCH your neighbors THRIVE
as we all become Healthier Together!
You're invited!
You helped us exceed our 2021 goal of 21 new monthly donors during this past year, yet there is more work to be done.
Becoming a part of our non-profit family continues to improve the health outcomes of our friends and neighbors in the Upper Peninsula.
For example, this past year, the Superior Health Foundation provided more than $900,000 in grant funding to health-centered, non-profit organizations around the U.P. to address the hungry, homeless, addicted, secluded and lonely. We continue to support programs and projects that provide medical supplies, hospice care, recreational programming, transportation, housing, childhood and family camp experiences, and so much more!
Said a monthly donor, Tricia, "I want to increase my monthly giving now that I have a better understanding of the scope of your work."
Added Greg, another monthly donor: " I am uplifted and energized with being a part of such an exclusive group that is highly committed to helping bring solutions to the complex conditions we face as a rural area."
Support What Matters To YOU in 2022!
Click here to provide a recurring gift
Thank you!
Lynn Hill
Community Engagement & Annual Giving Coordinator
"I have been a monthly donor to Superior Health Foundation for years.  With a busy schedule, I really appreciate the convenience of knowing my donation is getting to SHF each month without having to set a reminder.  I'm so thankful to Superior Health Foundation for all the work it does.  I look forward to being a monthly donor in the future so SHF can continue to keep doing all the wonderful things it does for the Upper Peninsula."

Craig Hakala
Parma, MIchigan